LOOKING TO OUT-SOURCE YOUR TRANSCRIPTION NEEDS?
When out-sourcing, a health care professional is looking for cost-savings by decreasing in-house overhead, while keeping the same high-quality standards for their dictation.
At A+ Transcription Services, we understand these concerns and have helped many practices achieve these goals. At A+, with our 30-year proven track record, we stand by our commitment to bring you the same benefits as having an in-house transcription department!
Welcome to A+ Transcription Services!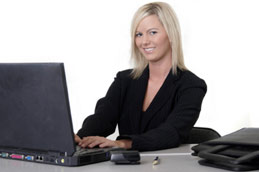 Welcome to the best choice in confidential and dependable medical transcription services. We are a full-service, 24/7/365 digital transcription company serving clients from coast to coast. Our U.S. based staff is knowledgeable in many different disciplines of medicine, while specializing in orthopedic medical transcription services. Founded in 1990 with a small staff of three transcriptionists, we have grown into a highly-successful national business thanks to our experienced staff and the professional standards we uphold.
At A+, we put the newest digital and internet technologies to work for you. Using this HIPAA-compliant web site you can upload your voice files to our secure server. Within 24-hours, your dictated voice files will be transcribed, edited, and proofread –a quality system accountability process. Included with the transcription will be a designated cover page - created specifically for you - calling attention to possible questions and discrepancies in dictated material. This is a feature you will not find at most medical transcription service organizations (MTSOs) - just one of the many components that set us above our competitors.
This web site was designed to achieve an easy workflow process, and records are available to you 24/7/365. Each account and transcriptionist is assigned a confidential user name and password, and all jobs can be monitored from beginning to completion. You will never have to worry about the progress or security of your dictation!
Some of the benefits of A+ Transcription Services:
a dedicated account manager is assigned specifically to your account.
a procedure manual is developed for your practice, so all transcriptionists can follow the protocol that is set forth by your office.
all documentation will be transcribed to your specifications, i.e. office visits, letters, consultations, independent medical evaluations, etc.
In today's healthcare market, your final product must be one that is accurate and error-free. At A+ Transcription Services you receive a document you can trust from a company who will deliver it promptly and professionally.