DON'T SETTLE FOR SECOND BEST
Our medical transcriptionists are specialists in the healthcare documentation and medical language industry. Dictated material is quickly and accurately typed, and is 99.5% error-free! Our Quality Control Systems ensure the greatest amount of accuracy.
Mission Statement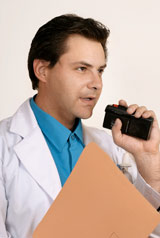 At A+ Transcription Services we are committed to providing our customers with an exceptional product at affordable prices in a 24-hour turnaround time. We will remain flexible to customize our services to suit individual patient practices and continue to place our primary focus on quality.