A+ Transcription Services Testimonials
David M., M.D., Orthopedic Group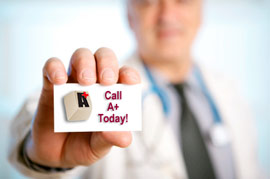 "I am a partner in a busy 4-person orthopedic surgery group. We have been using A+ Transcription Service for eight years. The service has been outstanding! The dictations are returned accurately and in a timely fashion. We compared A+ to other services, but found that they were less expensive than the internet-based overseas companies. Thankfully, we can use a local company and still save money.
We started with mini-cassette dictation and have progressed to digital dictation with internet file transfers. The technologic upgrade was easy and nearly painless. I anticipate that whatever technical upgrade comes next, they'll guide us through it professionally.
I highly recommend A+ Transcription Services for all your medical transcription needs."
Linda, Practice Administrator
Just a note to say "thank you" for the past ten years of working with us at Orthopedic Associates. We can always count on you for being accurate, dependable and always willing to go the distance for us!
Mitchell Gilbert, M.D., Ophthalmalogist
As a busy ophthalmic consultant, I dictate many letters to my referring physicians. A+ Transcription Service makes this process easy and efficient. Their excellent web site makes uploading of digital voice files and downloading of MS Word documents go smoothly. Their accuracy rate and turn-over time are outstanding. They are most responsive to feedback regarding new terminology and formatting. Using A+ Transcription Service is one of the most cost-effective and hassle-free aspects of my business life.