CUTTING EDGE TECHNOLOGY
At A+, we understand that your trust is one of our most valuable assets. Our technology provider, Kutting Edge Designs, has taken every available precaution to be sure that our website is as safe as possible.
All of the sensitive information we store on our computers is encrypted, including passwords, voice files, and transcripts. Additionally, all communication between your computer and ours in encrypted to prevent anyone from 'listening in'.
Click to read more...
Technology and Quality Control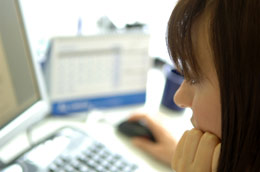 Current technology at A+ Transcription Services makes it possible for you to upload your digital voice files to our EV-SSL encrypted transfer service. These files are then transcribed by your designated medical language specialist and delivered back to you in the format of your choice.
Our system also allows web-based access from remote locations. The Technical Service Team will help you identify your needs and assist you with the start-up procedure. A+ Transcription Services does not charge any fee for putting a new account on-line.
Our Quality Assurance Team provides ongoing quality assessments and feedback to the provider, as well as to the medical transcriptionist.
An account manager is assigned and dedicated to each account. Proficient quality assurance protocols and procedure manuals will be created and distributed to each transcriptionist responsible for your account.
You also receive a custom cover page; which has been specifically created by A+ for quality assurance. This is designed as a communication tool between the transcriptionist and the provider, addressing such issues as terminology errors, patients that were not dictated on, or just a simple FYI.
The A+ web service was developed so that each job that is posted will flow efficiently and you will receive your transcription within the guaranteed 24-hour turnaround time.